Errant Kingdom
A downloadable Visual Novel for Windows, macOS, and Linux
Prologue & Chapters One - Five out now!
Kickstarter successfully funded
Errant Kingdom was previously being released in an episodic format. The final three chapters will be released in early Summer 2021. You can currently download the prologue and chapters one-five. Your purchase will give you access to the download of the currently available chapters and all subsequent updates for no additional cost. (Ever!)

Errant Kingdom is a queer, high-fantasy visual novel for PC, Mac, and Linux. The Kingdom of Novus has been thrown into disarray, and it's up to you to decide if you'll help to bring peace, or if you'll stoke the fires of chaos. Enter a high fantasy world steeped in political intrigue; where magic touches the land and blood turns the wheels unseen. Dishonour & betrayal. Hope & despair. Pick a side, and meet your match.
Errant Kingdom is a story with darker elements at play. As a denizen of the kingdom of Novus, you're at the heart of watching history unfold before your eyes. Whether you see its rise or fall, however, is up to you. There are those who will help you in your endeavors along the way, and might even find themselves enamored with you. Though, it is also possible to earn their ire should your plans be devious. Only you will influence how the story evolves, and the most important moves to make are yours, and yours alone.
Errant Kingdom features three playable protagonists with no fixed portrait, leaving players free to imagine their character as they see fit. Each playthrough has the potential to be vastly different, depending on your choices, your actions, and the way you interact with those around you.
Errant Kingdom is Rated M17 for explicit language, violence, and sexual themes. The game is made with the Unity engine.

THE AMBASSADOR
You're a revered noble from Vih'thris chosen by your King to serve as an Ambassador to the kingdom of Novus. Previous meetings between you have made you see eye to eye, and you've managed to establish a friendly, but tenuous alliance. While newly immersed in the court of Novus, you advocate for the betterment of both kingdoms. However, though you may serve the realm, you also serve the people. The assassination attempt puts into question both the King & Queen's ability to rule and their integrity. It's up to you to decide how you will proceed.
THE KNIGHT
You've been sent to Novus from the neighboring kingdom of Vih'thris as a show of good faith between rulers. Hand-picked by your king, your reputation as a knight proceeds you, and you've been charged to serve Novus and its inhabitants in the name of glory. The reception to your arrival has been promising, but following an attempt on the lives of Novus' rulers, everything has been thrown into chaos. You've sworn to protect Novus with your life, but are you happy to serve the sometimes bloody hands that rule?

THE NOMAD
By the order of a high-ranking associate in your hometown, you find yourself stationed in Novus; a kingdom that has a grudge against its newly appointed rulers. As a small rebellion threatens to find its footing, you plant yourself amongst the 'normal folk' to cause chaos. Though, it is up to you to decide if you will stoke those fires of rebellion, or if you'll douse them and reduce them to ash.


NO-ROMANCE ROUTE
We want to give those who might not be interested in pursuing a romance the chance to comfortably enjoy the game. You can play the game without having to select any flirt options or enter a relationship whilst still experiencing the story in-full.

REPUTATION
Depending on your choices and actions throughout the game on our dialogue wheel your reputation will fluctuate. This system will allow players to unlock special dialogue options and experiences that will influence the reactions of those around you, all tailored around the choices you make, just like in your favorite RPGs!

QUESTS (Coming Summer 2021)
In Novus' town square you'll find a quest board where you can pick up additional mini-quests for added gameplay. You'll get the chance to embark on some weird and wonderful journeys in addition to the main story-line. Though, you'll have to wade through the letters of complaint, petty disputes between townsfolk, and lonely hearts adverts first...

CODEX
Unlock character information, lore, and much more in our Codex that will appear in the main menu via the 'Quests & Extras' noticeboard.

Errant Kingdom has an LGBTQA+ cast of love interests, each with their own unique backgrounds and intertwining stories. If you choose a romance route, you will become exclusive with one (or two, if polyamorous options are selected) of our love interests, and will gain access to special scenes, CGs, and conversations. Our story is linear, so once a romance is selected, you will still interact with all of our other cast members! All six love interests are romanceable individually, and our polyamorous relationships are Lucien & Raiden, and Maja & Erik. Roux is asexual, and Livia is demisexual.
You can also check out our character playlists over on Spotify!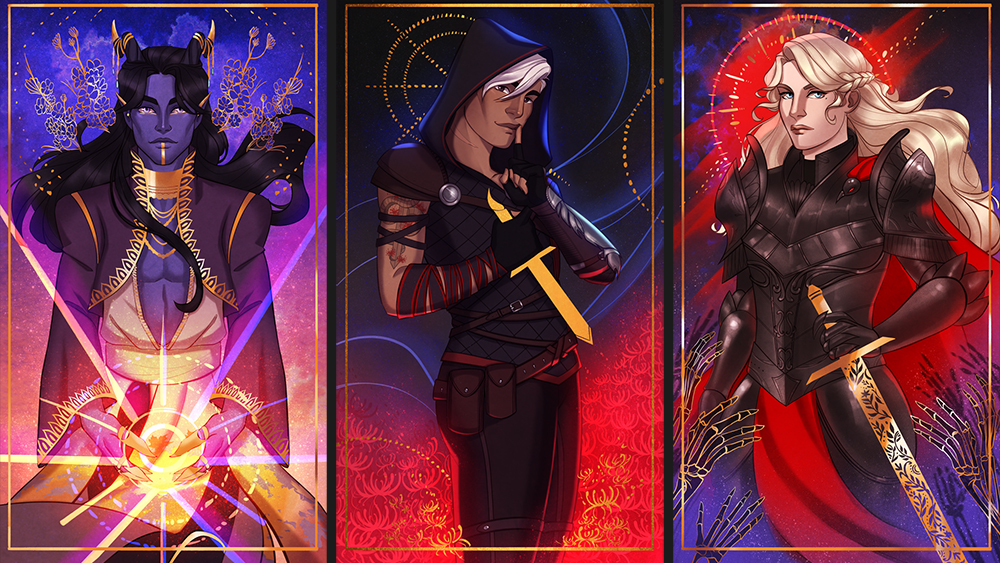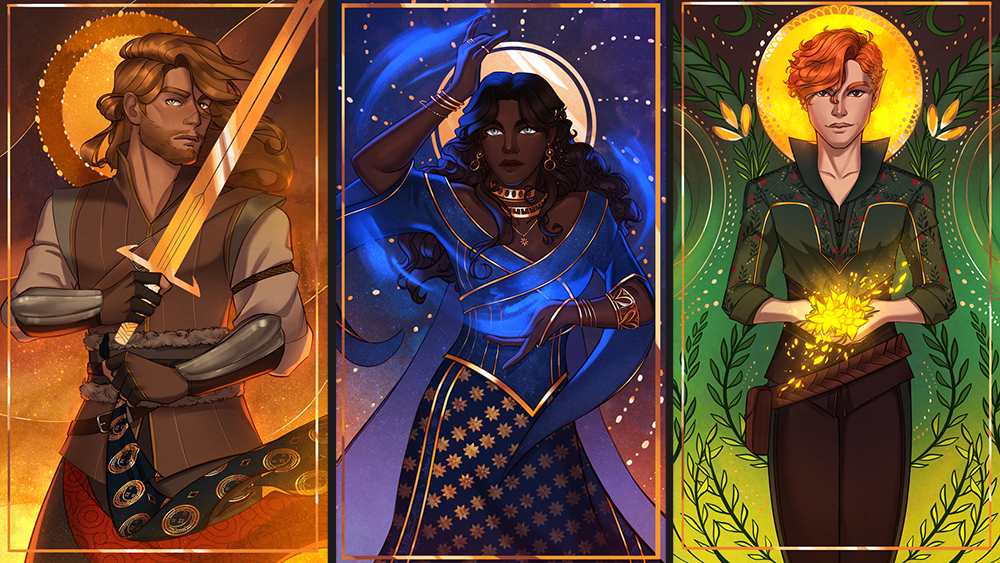 L-R top row; Lucien (they/them), Raiden (he/him), Livia (she/her)
L-R bottom row Erik (he/him) , Maja (she/her) , Roux (they/them)
Purchase
In order to download this Visual Novel you must purchase it at or above the minimum price of $20 USD. Your purchase comes with a Steam key. You will get access to the following files:
Errant Kingdom (64bit)
1 GB
Errant Kingdom (Mac)
1 GB
Errant Kingdom (32bit)
1 GB
Errant Kingdom (Linux)
1 GB